Following a 19-9 thrashing on American soil in 2021, Europe is out for revenge in the 2023 Ryder Cup. It will be played at the Marco Simone Golf and Country Club in Rome in an atmosphere unlike any other sporting event. The three days of drama-filled golfing action starts on September 29th.
After many years of being a USA versus just Great Britain event, with America as the dominant force, the Ryder Cup is now a Europe against the USA competition. The Europeans hold an 11-9 advantage in 21 events – the other ending in a draw – in its current format.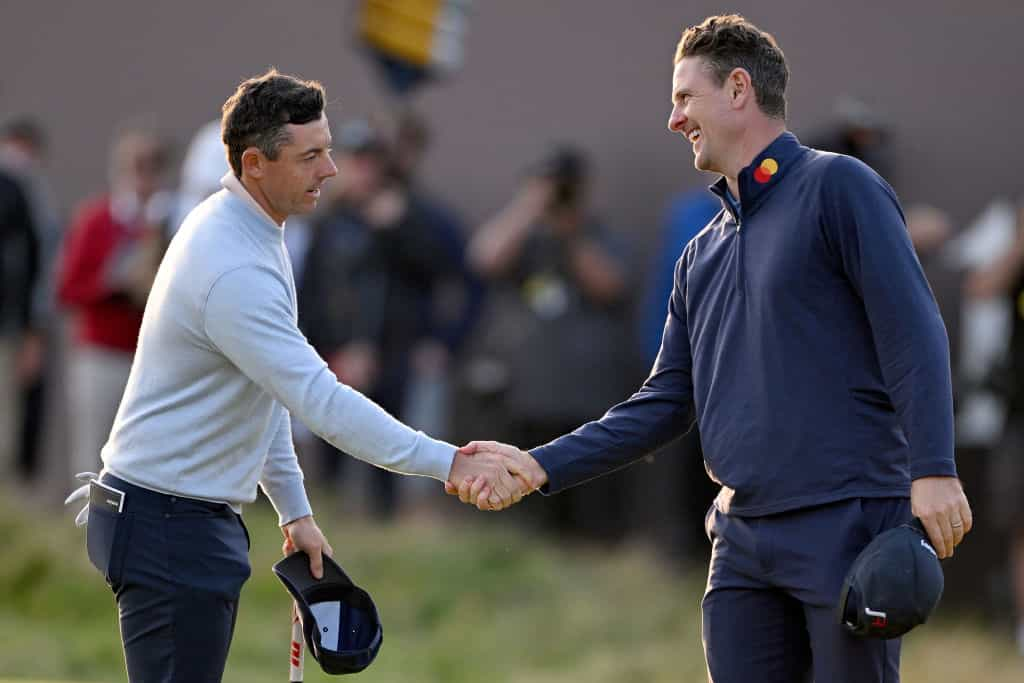 As in most major team sports, home advantage counts for plenty, and the Americans have struggled to get their act together when playing on European courses in the Ryder Cup. The fact that the USA team has only managed to win on two visits, with the last success coming 30 years ago at the Belfry, could point to another home success for the Europeans.
Will Rose and Rory Bloom?
The European team – quoted for victory on odds of 5/4 by the best golf betting sites – looks solid and is full of players with the battling qualities required to shine in what is always a nerve-racking and exacting three days of battle.
Rory McIlroy, currently world-ranked number two, makes his seventh straight Ryder Cup appearance. He spearheads the team and comes into the event on the back of 11 consecutive top-10 finishes on the PGA tour.
His wingman in Ryder Cup appearances is Justin Rose, who will surely make his presence felt for the sixth time in the event. His record of 13-8 and two halved holes is superior to the six players who made the squad. He could prove an asset to the team.
Jon Rahm (third), Victor Hovland (fourth), and Matt Fitzpatrick (eighth) are other team members among the top ten players in the World Rankings. Tommy Fleetwood and Tyrrell Hatton are listed among the top 20 players in the table. Team Europe represents a powerful, in-form team with a wealth of experience and ability.
How Can You Watch the Ryder Cup?
The Ryder Cup will be broadcast on Sky Sports Golf, Fox Sports, the Golf Channel, and America's NBC. It will also be streamed live on Peacock, FuboTV, ESPN+, Sling TV, Hulu+ Live TV, and YouTube TV, along with GOLF.TV, NBCSports.com, RyderCup.com and CBSSports.com.
Nevertheless, we recommend the official Ryder Cup app as an excellent companion to live television coverage. It will allow you to keep up with the live Ryder Cup action and updated Marco Simone Golf course scores.
What Are the Ryder Cup Teams?
Europe: Ludvig Åberg (Sweden), Matt Fitzpatrick (England), Tommy Fleetwood (England), Tyrrell Hatton (England), Nicolai Højgaard (Denmark), Victor Hovland (Norway), Shane Lowry (Ireland), Robert Macintyre (Scotland), Rory McIlroy (Northern Ireland), Jon Rahm (Spain), Justin Rose (England), Sepp Straka (Austria).
USA: Sam Burns, Patrick Cantlay, Wyndham Clark, Rickie Fowler, Brian Harman, Max Homa, Brooks Koepka, Colin Morikawa, Xander Schauffele, Scottie Scheffler, Jordan Spieth, Justin Thomas.
How Does the Ryder Cup Work?
– The Ryder Cup consists of 28 rounds of golf:
* Eight Foursomes
* Eight Fourballs
* 12 singles matches
– The foursome is a two-man team playing one ball per hole, with the players taking turns until the hole is completed. The players in each team alternate in taking the tee shots.
– Each two-man team plays one ball in the fourball, meaning four balls are in play on each hole. The lowest score of each team counts.
– In singles, each match is one player from each team.
All matches are played over 18 holes on the par 72 course. Hole 13 is a par three and the shortest on the course at 145 yards. Hole 18 is a par five and the longest at Marco Simone at 626 yards.
Each match is worth one point. Games ending in a draw earn each side a half-point. The first team to reach 14.5 points will win the Ryder Cup. If the matches end in a 14-14 draw, the USA will retain the title they won at The American Club in Wisconsin in 2021.
The Ryder Cup Schedule
Thursday, September 28th – Opening Ceremony.
Friday, September 29th – Morning session: Foursomes x4 first tee off 7.35 am.
Friday, September 29th – Afternoon session: Fourball x4 first tee off at 12.25 pm.
Saturday, September 30th – Morning session: Foursomes x4 first tee off 7.35 am.
Saturday, September 30th – Afternoon session: Fourball x4 first tee off at 12.25 pm.
Sunday, October 1st – Singles x12 first tee-off time is 11.35 and then every 12 minutes.
What Is the Best Ryder Cup Bet?
Course experience has proven itself invaluable in the Ryder Cup. The Europeans have an abundance of that, with Ryder Cup debutant Robert Macintyre lifting the Italian Open at the Marco Simone in 2022 and Nicolai Højgaard in 2021. Matt Fitzpatrick and Tommy Fleetwood were, respectively, runners-up in those years.
The USA team has only a couple of practice sessions to get used to this often testing course, and it may be handicapped when it comes to the competition proper.
Of course, the Ryder Cup is rarely easily won, and the Americans field an impressive array of top-class players. Scottie Scheffler is the world's top-ranking player, with Patrick Cantlay, Xander Schauffele, Max Homa, Brian Harman and Wyndham Clark in the top ten. Several other players in their team are ranked in the world's top 20.
The golf betting sites – who had the American side priced at 8/15 following 2021's massacre – currently make the USA just a shade of odds-on to win the Ryder Cup. However, with the advantage of playing on home soil in front of what is always a partisan and noisy crowd, taking the 5/4 offered on Europe looks a sensible bet.
Have you enjoyed this article? Then share it with your friends.
Share on Pinterest